I have three words for you:
Jell-O Egg Molds.
My mother-in-law found them and ordered them. I got the lucky chance of making them! Did you know that if you add evaporated milk to Jell-O, it turns opaque? These were the best Easter Eggs I have made yet!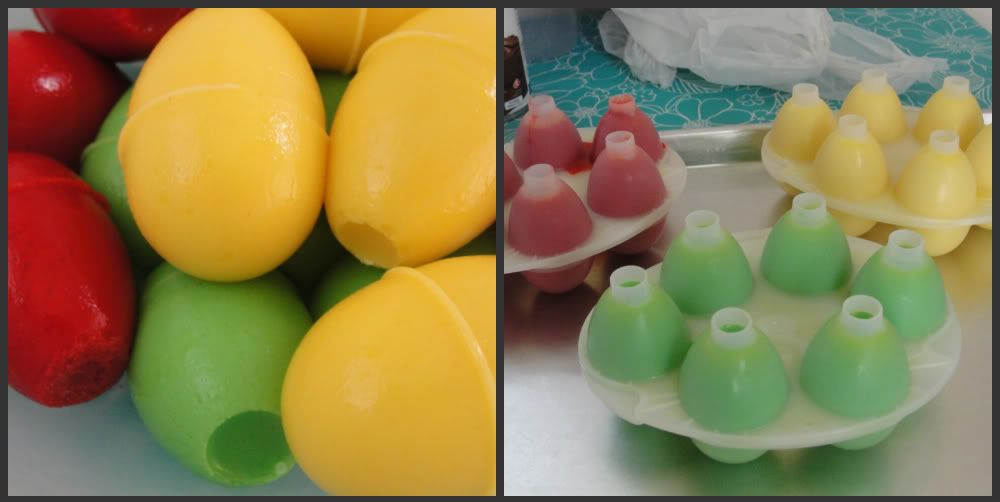 So we told ourselves (well, I tried to tell myself) that I wasn't going to always splurge and buy something cute for Hailey just because we see it at the store and like it. We didn't need to waste our money like that, we had plenty of clothes already for Hailey. So what do we end up doing Saturday night when we're at Walmart last minute buying Jell-O? We buy a dress for Hailey. But it is SOOO cute!!!! Oh, she was a big hit at church. What better way to bring your daughter to church for her first time than to put her in an ADORABLE dress for Easter and let everyone oogle over her? *smiley face*
We also bought tights, and I have to admit. I think the tights are my favorite part! They are HUGE on her, but she'll grow into them, and they still get the job done. But the tights totally complete the outfit and hide her scrawny legs (sorry, Hailey, but you know they are) and just make her look like a beautiful, church-going baby on Easter. I love the pink and the ruffle sleeves!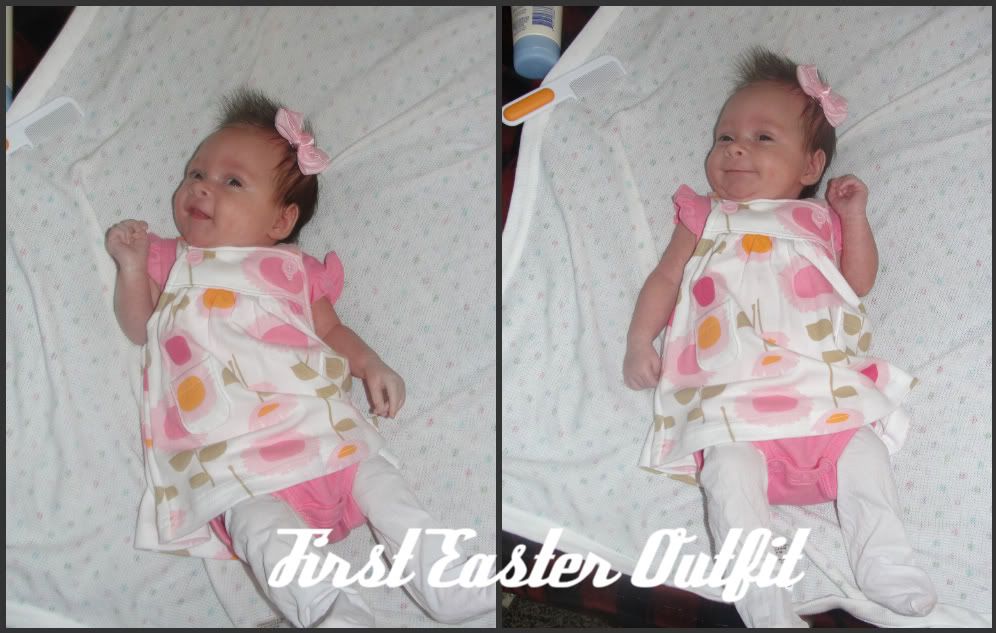 My sisters did also buy a cute outfit for Hailey for Easter, so this is what she wore after church. It's got a cute tutu and it says, "My First Easter." This little girl sure gets spoiled by her aunties!
So anyway, Saturday night we dyed eggs at Scott's parents' house, and then Sunday we went back up and had Easter dinner with them. First potato salad of the year! Not to mention the deviled eggs were delicious!
Afterward, we just hung out. The kids did an Easter egg hunt and I really wanted Hailey to "participate" but I think the sun was just a little too bright for her to be outside. So we watched from inside instead.
We busted out the Wii and played Mario and Wii Sports. Grandma and Grandpa Benson also gave Hailey her first Easter gift from them and Scott his Reese's peanut butter eggs and Egg-gums (these nasty bubble gum eggs that come in little cartons that they get every year). It was a very nice Easter, but Hailey was done by the end! We also visited my family, too.
Last but not least, don't forget about our Savior. There are some very good articles about the Atonement in the Ensign this month that I suggest everyone read. I have loved focusing on different aspects of the Savior's Atonement for us this month. Go to www.lds.org and watch the movie they put up called "He Is Risen." Scott and I watched it together last night and it was very, very good. I felt the Spirit very strongly.
I hope everyone had a Happy Easter!